This is the day, Gotcha Day, the day we get Caden.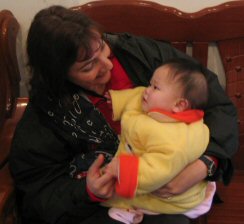 She came right to us, with no crying at all.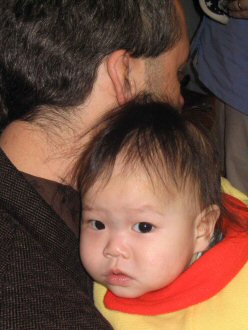 It was very cute, she sat on Lynne's lap and just stared at me for a good 5 minutes. Then she reached out for me. We sent pictures out to the orphanage earlier and I think the Aunties did a good job of showing her the pictures because she seemed to recognize us.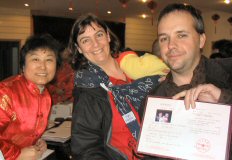 After getting the babies we went to complete the official adoption paperwork. We have now officially adopted her in China. Now we wait for some of the paperwork to get back to us and then on to Guangzhou to adopt her in the US.
What you don't see in the pictures is that I am deathly ill. I caught the stomach bug. For the last picture just seconds before it I was sleeping on a chair in the lobby, shivering with the chills. I went back there immediately after the picture was taken. After we returned to the hotel I slept for 15 hours. I'm feeling better now and can hopefully more fully enjoy this time with our daughter.