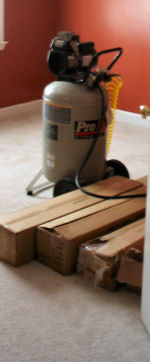 We are finally replacing the carpet in the second floor of the house with hardwood flooring. After looking around we settled on Bamboo, it was a good price and a nice light color. What's being replaced is "builder's carpet", the cheap carpet that our spec house got built with.
One of the best parts of any project is the new tools. Since we're doing such a large area and it will take four or more weekends to do the whole project it is cheaper to buy the air compressor and nail gun than it is to rent them every weekend. The air compressor we bought on eBay didn't arrive until Monday, so the one pictured here was lent to us by our very kind neighbors.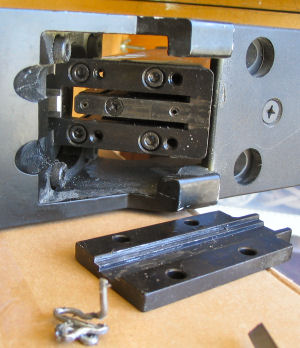 Over 150 square feet and the nailer only jammed once. Clearing it was easy as the strike plate is only held in with four bolts and they're easy to get to. Yeah, that crumpled piece of metal used to be a nail.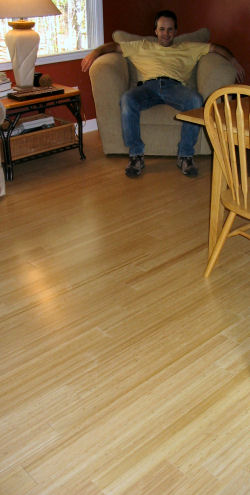 Finished! Well, except for the trim, which will get done only after all the rooms are complete. This room, including the closet, took about 16 hours to complete. Let's see if I get any faster as the project progresses. One room down, three rooms to go.