It's not like Lynne and I were sitting around, raising four kids, keeping a full time job, a part-time job, another part-time job, and saying to ourselves, "What are we going to do will all our free time?". What we were thinking is that remodeling is something that we both enjoy and honestly playing stock option bingo isn't going to be our path to riches.
Lynne did a lot of legwork and found this great little lake front property. We both liked it not because it looked great, but because it had the potential to look great.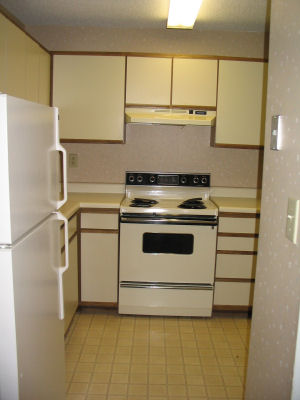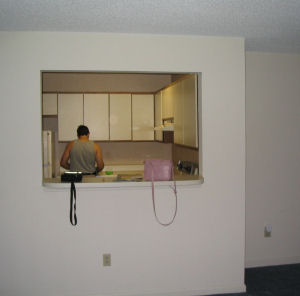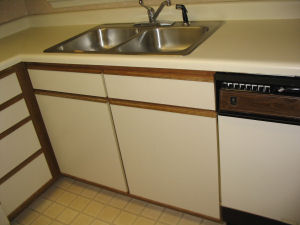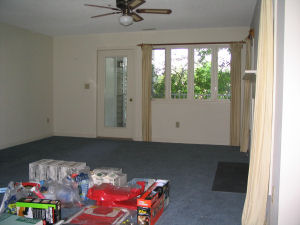 As you can see, the fixtures and appliances haven't been updated since it was built 20 years ago, from the beige-never-offended-anyone color scheme right down to the flower wallpaper in the kitchen. The only thing was new was the carpet, which was deep, and blue and had to go. We felt bad about throwing out something that new so we posted to craigslist that it was free for the taking, in which 'taking' included pulling it up off the floor yourself. We had two takers who removed about 70% of the carpet.
The final remodel will include new paint on all the walls, bamboo floors in the living room, dining room, and hallways, berber carpets in the bedrooms, tile on the kitchen floor and counter tops, new(er) appliances, and refaced cabinets, plus all new fixtures. In addition we just had to do something architectural with that passthrough between the dining room and the kitchen. The size and shape of the opening made the kitchen feel small and cramped.
We've been working on the place for close to a month now and are making good progress. Here are some shots from a couple weeks ago: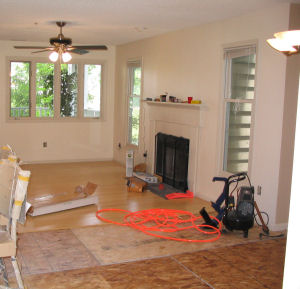 The passthrough has been lowered and a breakfast nook added at the same level. The opening is also wider, with the columns and recessed lighting adding some structure to the space.